If you are missing one to three teeth in a row, a dental bridge is a reliable option for closing the gap in your smile. Receiving a custom-made restoration not only restores normal function to your smile, but also makes chewing and speaking easier. It can also give you a boost in confidence.
At Navid Family Dentistry & Associates in Peabody, MA, we pride ourselves on providing our patients with the high-quality, comprehensive dental care they need to maintain a healthy, beautiful smile. Our doctors work closely with you to design either a custom traditional or implant-supported dental bridge.
What is a Dental Bridge?
A dental bridge is a restoration designed to replace several missing teeth in a row. The restoration is comprised of pontics, or false teeth, which are attached to dental crowns. To place traditional bridges, these crowns are anchored to the teeth on either side of the gap.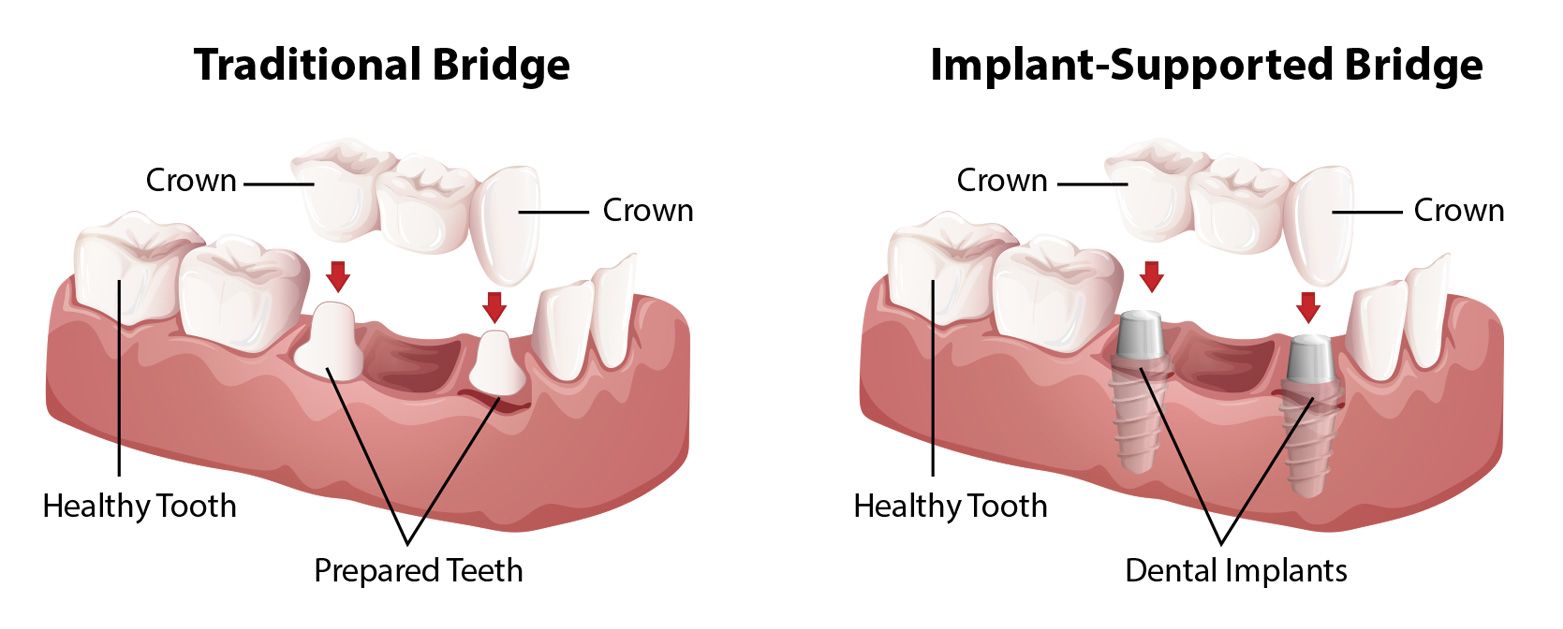 Implant-Supported Bridges
We also offer implant-supported bridges as a more stable option for tooth replacement. Instead of placing dental crowns on the surrounding teeth to secure the restoration, the doctor will surgically place a dental implant in the jawbone to support the restoration. In addition to the increased security and durability, implants can also slow down and even reverse the jawbone atrophy that occurs in the wake of lost teeth.
Benefits of a Dental Bridge
Regardless of which option you choose, a dental bridge offers two main benefits:
Improved Dental Function

Missing teeth can make it difficult to chew properly, often causing patients to significantly alter their diet or chew on the other side of their mouth. This can lead to malnutrition and excessive wear on certain teeth. Receiving a dental bridge can close the gap in your bite, allowing you to regain normal function.

Restored Aesthetics

One or more missing teeth can be fairly noticeable, especially if they are near the front of your smile. This can cause you to feel self-conscious and even stop smiling to avoid embarrassment. Completing your smile with a realistic dental bridge can allow you to feel more confident.
These benefits cannot be overstated. After treatment, many patients experience an improved quality of life.
Placing Your Dental Bridge
Traditional dental bridge treatment may require one or two appointments depending on whether you qualify for a same-day bridge created using CEREC technology.
Preparation
For a traditional bridge, your doctor will first need to remove small amounts of each abutment tooth to allow your dental crowns to fit comfortably. We will then take an impression of your bite, which will either be fabricated with our on-site CEREC software or sent to a trusted off-site lab.
Do not allow missing teeth to go untreated.
If you are receiving a same-day bridge, it will take about an hour to create your restoration. Otherwise, you will be provided with a temporary bridge until you return to our office in a few weeks to complete your treatment.
Attaching the Restoration
During the final appointment, the doctor will evaluate the fit of your restoration to ensure comfort and stability. They will use dental cement to secure your traditional bridge in place.
If you have elected to receive an implant-supported restoration, our implant specialists, Drs. Shahram Navid or Justin Cifuni, will perform your placement surgery. Once your implants have fully fused with your jawbone, they can attach abutments and take impressions of your bite for the customized bridge.
Repair Your Smile
Do not allow missing teeth to go untreated. Contact us online or call us at (978) 532-5550 to schedule your consultation today. Our doctors will recommend the best solution for your needs.