Tooth loss can be an excellent reason to explore dental implants. The only treatment option that replaces the roots of missing teeth, dental implants offer longevity bordering on permanency. Discover how this revolutionary solution to missing teeth can change your smile and improve your oral health. Call Drs. Navid, Cifuni, Fisher, and McDuffee at Navid Family Dental & Associates in Peabody, MA, to schedule a personalized dental implants consultation.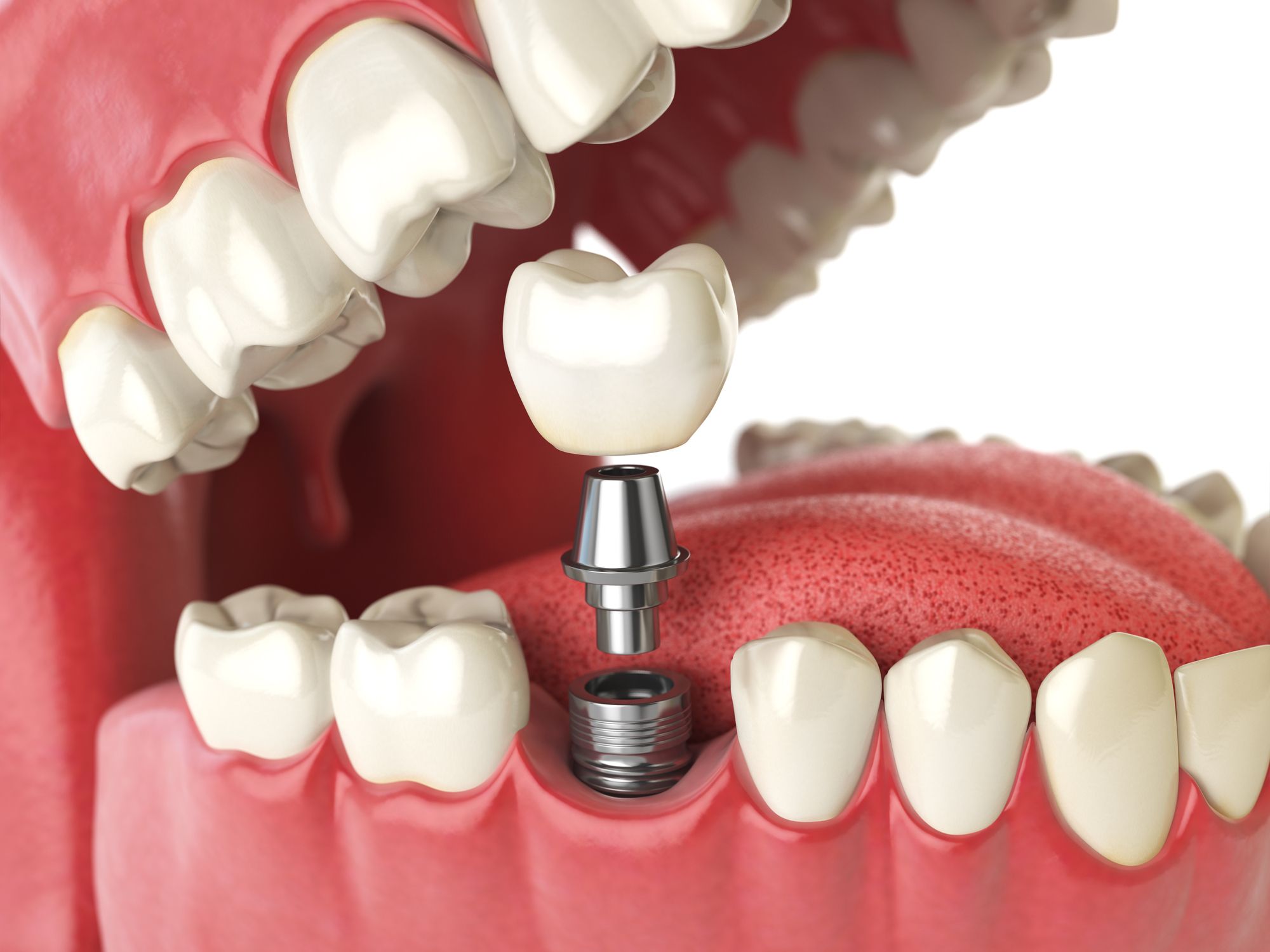 What Are Dental Implants?
A dental implant is a prosthetic intended to mimic the appearance and function of a natural tooth. Dental implants are well-suited for otherwise healthy patients who have one missing tooth, or several missing teeth. Each dental implant is comprised of three parts: a titanium-based post, an abutment, and a dental crown. A specially trained dental professional surgically places the implant post into the jawbone at the site of the missing tooth. The site is left to heal for several months during a process known as osseointegration. During this time, the post fuses to the bone, creating a solid base for the dental implant.
Dental implants can replace single or multiple teeth, through restorations such as dental crowns, bridges, and implant-supported dentures.
Once the surgical site has fully healed, an abutment will be attached to the post. The abutment stands above the gum line. A customized dental crown will be attached to the abutment, offering a natural, lifelike appearance to the dental implant. No special treatment of the adjacent teeth is necessary. Dental implants can replace single or multiple teeth, through restorations such as dental crowns, bridges, and implant-supported dentures.
Dental Implants vs. Traditional Restorations
Some of the most significant benefits to having dental implants placed include:
Lowering the risk of bone loss at the missing tooth site: Without stimulation from a tooth root, the jawbone will begin to deteriorate at the site of a missing tooth. Dental implants offer stimulation to avoid bone loss issues.
Filling in gaps created by missing teeth: As an aesthetic solution, dental implants offer patients the opportunity to enhance their smiles. Once integrated into the structure of the mouth, dental implants look and feel like natural teeth.
Lowering the likelihood of drifting and crowding: Dental implants help surrounding teeth remain in a stable location. Otherwise, teeth may shift out of alignment, causing bite problems or other issues.
Improving self-esteem in social situations: Patients with dental implants have fewer dietary restrictions and may feel more comfortable interacting in groups, on dates, and in meetings.
Candidacy for Dental Implants
Dental implants are the right restorative dentistry choice for many patients. In most cases, the highest quality candidates are those exhibiting the following traits:
Good oral health and habits: All patients will undergo routine examinations to check for underlying issues before dental implant placement surgery. A healthy mouth and body ensures a stronger likelihood of long-term success.
Strong jawbone: Implants are placed into the jawbone; therefore, it must be able to adequately support the implants. If you have experienced significant bone loss, you may be a candidate for bone grafting or a sinus lift. In certain cases, patients may qualify for All-on-4® dental implants.
Limited (or no) use of tobacco products: Smokers are at a higher risk of dental implant failure than patients who do not smoke or use related products. If you smoke or chew tobacco, the dentist may recommend that you quit before undergoing dental implant surgery.
Schedule Your Dental Implants Consultation
The decision to move forward with dental implants should be made between an experienced dental provider and the patient. If you live in or near Peabody, MA, call Drs. Navid, Cifuni, Fisher, and McDuffee at (978) 705-6898, or send us a message using our online contact form. Our practice has helped patients for more than 25 years, and we would be pleased to talk with you about dental implants, the surgery process, and their cost.